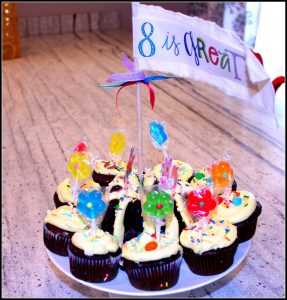 Eight is Great! Marisa turned 8 years old! Woo Hoo!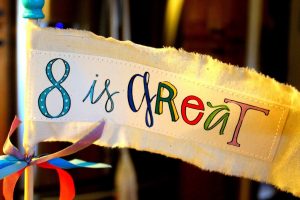 My Granddaughter Marisa's birthday and baptism celebration! Eight is Great!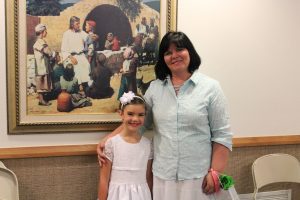 Marisa and I at her Baptism.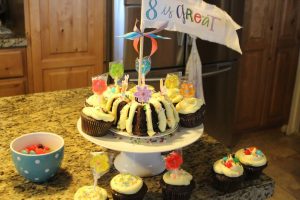 Dessert table at the luncheon party for Marisa Belle. I made a little heart Bundt cake just for her!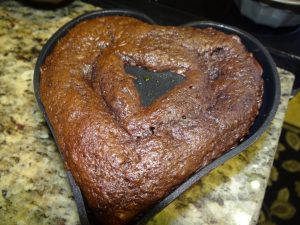 I have a few of these pretty heart individual bundt cake pans. I made chocolate cupcakes and then used the bundt with the leftover batter.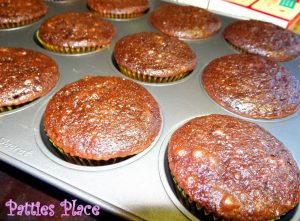 Then I frosted them with cream cheese icing.
This is the recipe I use for any chocolate cakes I bake. It is from All Recipes.com. This recipe has cream cheese and a pudding mix in it and mini chocolate chips. It is dense, rich and wonderful with cream cheese icing. It also has 4500 reviews with almost 5 stars. That is a good recommendations people!
HERE is the link. You will not find a better chocolate cake recipe. It uses a boxed mix. My favorite boxed mix is Betty Crocker Supermoist Chocolate Fudge.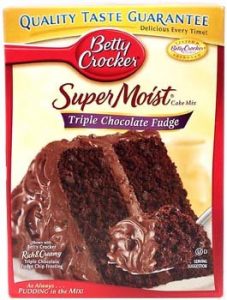 My favorite boxed cake mix. I just doctor it up a little with sour cream and a pudding mix.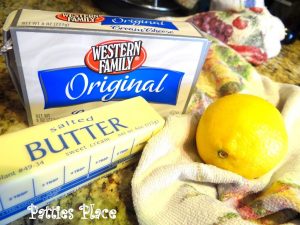 Cream Cheese Icing – I use a brick of cream cheese, a cube of butter, a few cups of powdered sugar and a little lemon juice for flavoring.
Cream Cheese Icing
1 cube butter (1/2 cup)
1 brick of room temperature cream cheese
1 teaspoon lemon juice
2 -3 cups of powdered sugar
milk to the desired consistency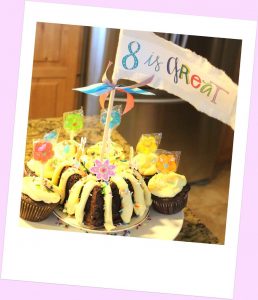 Eight is Great! And a birthday party is too!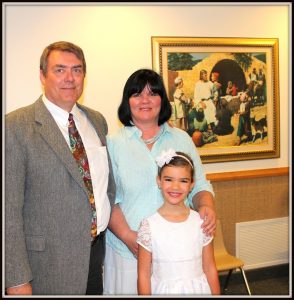 Little Miss Marisa is my sweet first grandchild. I love her so.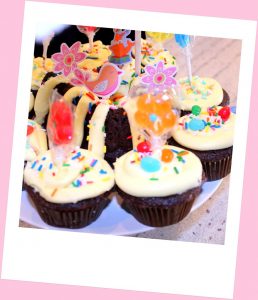 Birthday cupcakes made with homemade cream cheese icing, sprinkles and jelly beans, and little suckers as toppers.
My friend Aimee Ferre made this cute flag and I bought it at one of her sweet boutiques. I will use it when each of my grandkiddos turns eight!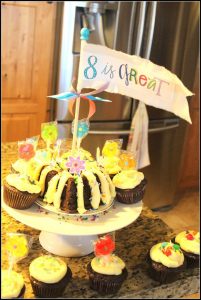 Eight is Great! It is a milestone birthday in the LDS church because it is the year you can get baptized too.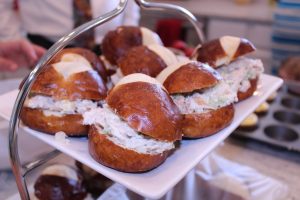 Tiff ser ed chicken salad sandwiches on pretzel rolls. They were SUPER YUMMY! I love those rolls. Get them at Costco. They are a little pricey though, I think they are around 6 bucks a package.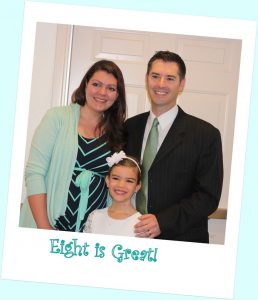 Gary baptized his little girl. It was very tender to see. I love all these peeps!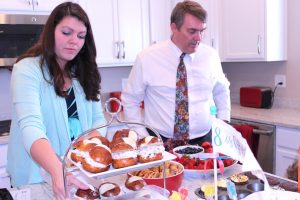 This is the first party Tiffany has had in her new home. It has the greatest kitchen with a huge marble island. I love it!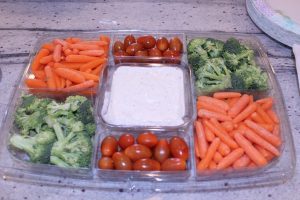 Veggies and dip.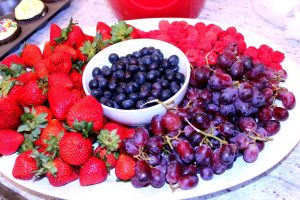 Fruit platter. Make some of that yummy marshmallow fluff dip to go with the fruit.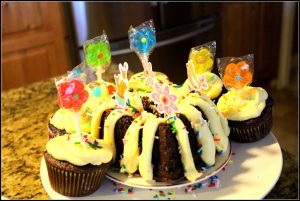 I put little suckers into each of the cupcakes for the kiddos.
I forgot to take pictures of Marisa opening gifts. But she got this really cute gift from my son and daughter-in-law Devin and Caitlin. It was a tiny tiny silver necklace that had an 8. I just LOVED it! How clever is that? I got her jewelry too; a pearl necklace and earrings. She got lots of cool loot.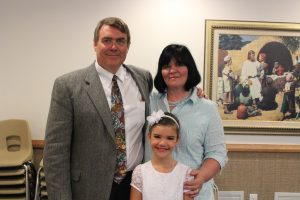 I loved the entire day. Milestone Happy Days are so fun to spend with family. Yes they are.