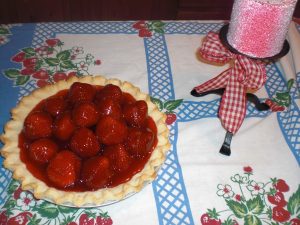 I made some Strawberry Pie for my daughter and daughter-in-law for a Mother's Day gift today (it's a day late but they won't care…..cuz it is so good it's criminal! I use Jello for the easy glaze!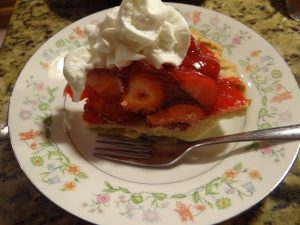 Fresh Strawberry Pie with Jello Glaze…don't ya want a bite? Yes, you do!
I love fresh strawberries and I had a ton I got from the market for $3.75 for a 2 pound package! What a deal!! So I bought 2 of them and made 2 strawberry pies! This recipe is so easy and it was deeeeeeelish. You make the glaze with jello! It is SOOOOOO easy peasy.

I'm gonna do some in peach as soon as they are in season.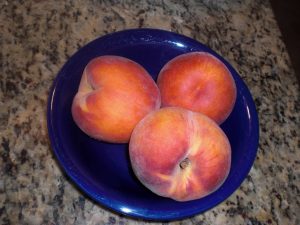 Peaches from my tree last year were so yummy. It is just now filled with pink flowery blossoms!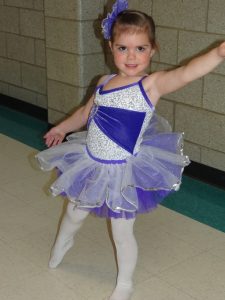 Well, not as pretty as this little Peach at her Spring dance recital!
Here is Miss Megan being her cute, little, joyful self after the recital. So cute!
I like to make my pie crust with real butter. It just tastes better to me, like a yummy crescent cookie. So try your crust with butter to see if you like it too.
PIE CRUST INGREDIENTS…..
I used 1 cube butter,
cut in 1 1/3 cup of flour.
Add 1/2 teaspoon salt
3 Tablespoons ice water
(I add ice cubes to the water…it just works better to have COLD water!)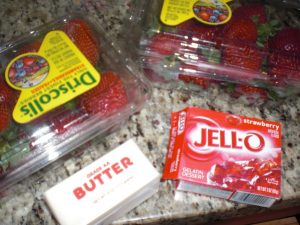 The glaze is easy..just jello mixed with sugar water and cornstarch…
Then I like to whisk it up mold it into a ball and roll it out on a large zip lock baggie. It just makes life easier and I was out of waxed paper. 😀 I rolled it out so it was about 1/2 inch bigger all around than the pie tin layed over it. Then I cut around it.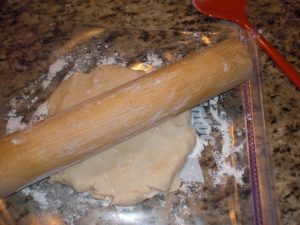 I rolled it out onto the gallon size baggie…you could use waxed paper too.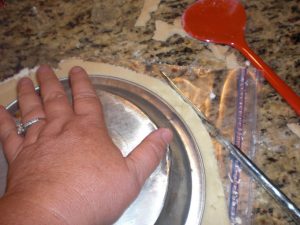 cuttin' around the upside down tin…1/2 inch bigger for the cute edging…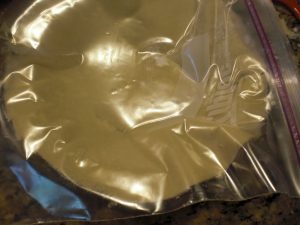 It's so easy to flip the pie crust into the pan and peel off the baggie…then toss it!
Making the beautiful edging is my fav part. Just pinch between your left thumb and your right thumb and forefinger to make the pointy peaks around your pie crust edge. Or opposite if you are a lefty.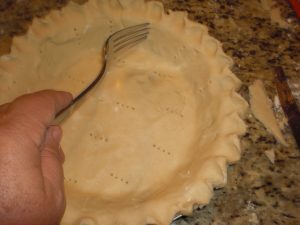 Don't forget to poke forkholes in the butter pie crust…then bake at 475 for 8-10 minutes.
While the crust was baking I did the glaze and cut off the tops of the strawberries and washed and dried them. The glaze is super easy.
Strawberry Glaze Ingredients and Directions
3/4 cup sugar
1 cup of water
2 tablespoons cornstarch Mix first 3 ingredients….
Put it in a saucepan on the stove till it is smooth and when it is bubbling….boil for about 2 minutes. Then take it off the heat.
Add 1 small 3 oz. strawberry jello into the thickening syrup.
Whisk it for a minute till it is dissolved and then put it in the fridge for 15 minutes to cool.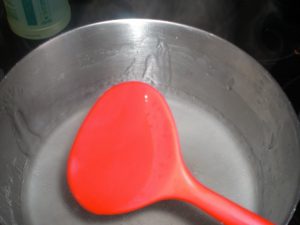 Boil the syrup for about 2 minutes….It's a little bit thick…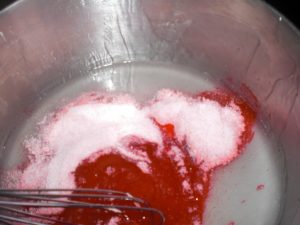 Take it off the stove and toss in the small box of jello….
Then arrange the yummy strawberries with the pointy side up in the cooled pie shell. By the time I had the green tops cut off and them washed and dried, the glaze was cool! Pour the glaze over the top, coating each of the top strawberries. Then pop it into the fridge for a 1/2 hour until set.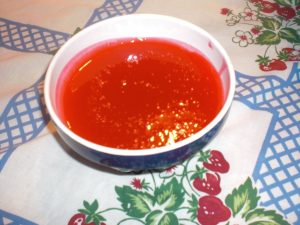 Here's my glaze before I refrigerated it for 15 minutes….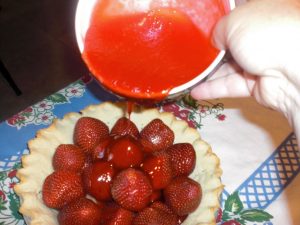 It was delicious because the top of the crust was still crunchy cookie tasting. I hate pie crust that is all soggy Ug! So we ate that baby up so fast!!! It was gone by morning. Yum is all I can say. But I wish I had made 2 of em.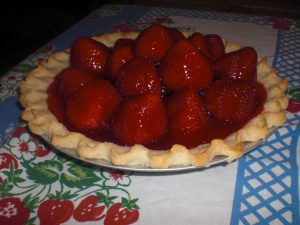 Who says you can't have a piece of Fresh Strawberry Pie for breakfast…NOT ME!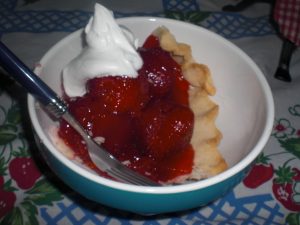 I'll be dreaming of this Strawberry Pie for awhile……mmmmm good!