I played around with some Halloween Cupcakes for a work party.
I had about 7 different designs on my Halloween Cupcake treats.
It was fun to make the "Purple People Eater" cupcakes with little eyeball superballs.
My favorite Halloween treats were these brownie skeletons made from white chocolate disks for the heads and yogurt covered pretzels for the bodies. I had to put chocolate icing on the walnut brownies too.I added pretzels and white chocolate candy melts for the faces. The rest of the body I used just white buttercream icing and made the legs and hands with a pastry bag and a decorator icing tip.
Here is a plate of my finished cupcakes. Love the chocolate vampire cupcakes with M & M eyes and candy corn teeth. The bloody smiles are made from red fruit snacks cut into strips.
I had some spider rings at school I added to the spiderweb cupcakes but forgot to take pics afterwards. The mummy cupcake was super easy with M & M eyes
I added a small box of vanilla pudding, 3/4 cup of sour cream and some butterscotch chips to the batter of the cupcakes. I also added half melted butter, instead of 1/2 the oil. It just tastes better. I hate cupcakes where I can taste the oil! Yuck!
Finished Halloween cupcakes and treats on top. They were very colorful and very yummy too.
The easiest Halloween cupcakes were the spiderwebs and pumpkins. Just chocolate chips for the jack-o-lantern faces. I just added chocolate chips for the face and some pretty sprinkles over the orange and green icing.
This vampire cupcake was so cute. I thought it turned out cute with the brown sprinkles for the chocolate iced hair, and the M & M eyes. I made some eyes brown chocolate chip eyes too. I couldn't decide which one looked better.
Notice the 2 colors of spiderweb cupcakes too. I think they both look really pretty. It would be a cute plate to just have the 2 flavors of spiderweb cupcakes for a party.
I also made a pan of brownies too. They were skeleton brownies. I added candy corn to the square brownies.
Check out all the sweet treat fun! I got a lot of inspiration from looking on Pinterest at cute treat ideas I could try. I love peanut butter cookies. I'd do the pumpkin kisses with peanut butter cookies instead of brownies.
These Halloween Brownies are super cute. And they were super easy. I love a mint flavoring for the icing and then I would tint the icing mint green. It looks so fun like cute little Frankenstein and jack-o-lantern faces!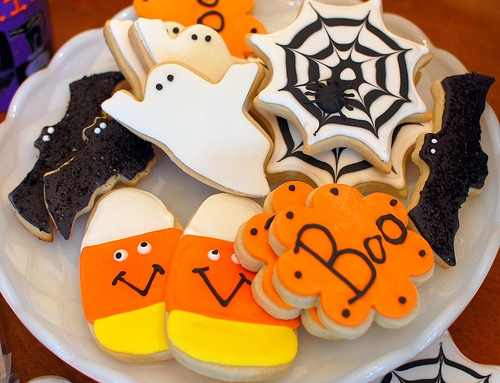 Here at Tidymom.net is a bunch of really sweet cookies to decorate for Halloween. I love the Spiderwebs and Candy corn the best! But it is the assortment that really makes the white serving plate look special!
Here are my 2 little pirates at the Halloween Party. Argh! Matey! Have a Happy Halloween!