I was at the Pinner's Conference last Saturday and I got the best and yummiest Cranberry Relish recipe from the Our Best Bites ladies.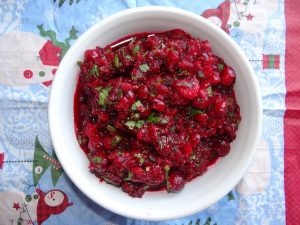 It is made from a bag of fresh cranberries chopped up in a food processor. Then add a diced apple and a cut up orange, peels and all. Then add 2 cups of sugar. That sounded like a lot to me. But then after she pulsed it all in a food processor they passed around the relish. Oh my gosh it was sooooo gooooood!
Recipe for Cranberry Relish
1 bag of fresh cranberries chopped fine
1 granny smith apple diced
1 orange cut up into 1 inch chunks (including peel)
2 cups sugar
Mix all in a food processor and pulse till fine. That's IT!
I have to try making it myself. It was refreshing to eat with a spoon, and she said it was even better as a spread on turkey sandwiches. I think it would also be good on crackers like Wheat Thins.
I have another recipe I use with fresh cranberries called Cranberry Cilantro Salsa. It is great over a brick of cream cheese and surrounded by crackers for a party. Now I have two of these fun recipes that would make great party dips over cream cheese.
And they look so festive too!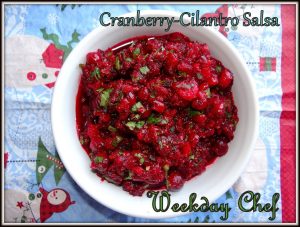 I can't decide which I like better. One is sweet, one has a little heat because of the jalapenos. But one thing is for sure. I am buying fresh cranberries this week. 😀