Today Grandpa opens his pool. We all go up for a BBQ and we celebrate 4th of July too! I think I'll bring some cool fireworks so Tyler our resident pyro can have some fun. AND some fun 4th of July cupcakes to share with all the relatives!

Happy 4th of July! Snap, Crackle, Pop! Did you hear that all night?


The girls….


There were lots of little girls…lots of cousins the same age too! 3 were born a few weeks of each other!


My son Jeff, and Wendy his wife, and little Josie, 1 year last week!

Megan got brave and wanted to do the slide and diving board…..she has no fear I swear!

John with his granddaughter Josie

Grandpa always does a BBQ for us at the 4th of July Party…Here is John and his dad, Don Moss.
I looked online and found lots of cute decorated cupcakes with the patriotic red, white and blue theme going. I really wanted to find some I could use with blueberries and strawberries because I bought a HUGE package at Costco and I need to use them up since Johnny isn't such a fruit lover….as much as I am!

My 4th of July Decorations on my entry table…
So on Diana's Desserts website I found a simple 4th of July cupcake decorated with marshmallow whip and real cream that sounded great, and it uses the 2 fruits. It looked very cute too so I decided to copy. Thanks Diana! Her website link is HERE.
They turned out really yummy. I used cream cheese and marshmallow whip and cool whip because I thought the real whip cream would melt in the heat. They were marvelicious! Mmmmm…..I'm thinkin' of one of those babies right now!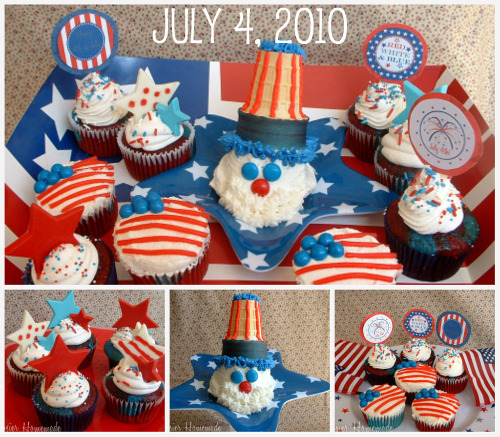 4th of July cupcakes from Hoosier Homemade…
Another cute decorating idea was from Cupcake Heaven's ideas at Hoosier Homemade. Her link is HERE.
I liked the red licorice striped cupcakes with the little candy blue balls. I have some peel apart red licorice so I will try that one too. And maybe I can come up with some little picks in a patriotic theme.
Dining Room decorations for 4th of July….
My 4th of July cupcakes!
Uncle Sam and my patriotic quilt…

My finished chocolate 4th of July Cupcakes! Yummo!
 So my cake is chocolate… I always add about a 1/2 cup of sour cream and a small chocolate pudding mix. It makes it a lot richer……and my icing I made with Marshmallow Creme (fluff stuff) about a cup or so, and cream cheese (about a half of a large block) and about a cup of Cool Whip. I just mess with it till it looks and tastes the consistency I want. And I gave it a little 4 drops of lime juice for a kick. It is sooooo delicious! You can also use it as a fruit dip. It's to die for.

I found some little flags and stuck them on toothpicks and added them to the tops of my 4th
of July Cupcakes for red, white and blue decorations!


These 3 ingredients make THE BEST ICING EVER!

(or fruit dip)

Marisa and Megan my granddaughters rocking in the hammock….so cute!
Happy 4th everybody! We all sure had fun at grandpa's pool and BBQ party!