If you want to make somebody happy this Halloween make some Halloween Brownie Skeletons! My grandkids love baking with me. And they will love making these. They can do everything but the faces and hands and arms. It is fun to put them all together too.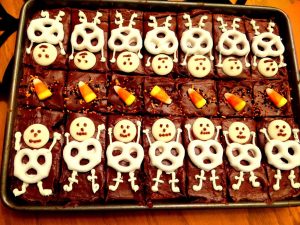 Halloween Brownie Skeletons are so cute and they make up as skinny treats so they will go far. This cookie sheet (Costco's large cookie sheets) made 21 treats.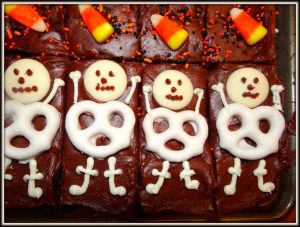 Here is a close up of my Halloween Brownie Skeleton treats. I made the middle row into just some square brownies with some black and orange sprinkles and a candy corn.
The bodies are just made from yogurt or white chocolate covered pretzels. I then bought some white chocolate disks from Michaels Craft Store. Those make the heads. The rest is just chocolate and vanilla icing in a piping bag using a very small round tip to make the little faces and arms and legs.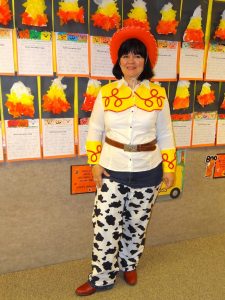 I'm all ready for the Halloween Party now! I made this cute little Toy Story Jessie costume out of some yellow felt glue gunned onto a white shirt and I topped it with some red braid. The cow material is just pinned to my favorite jeans. It turned out cute with the little red hat.
Have fun at the Halloween Par-tay!